OUR CIGARS
year round
seasonals
limited selections
about presidente j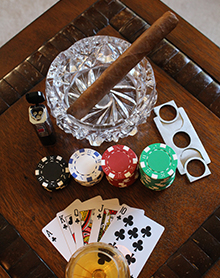 A deep, chocolate colored wrapper with rich oils offers a sparkling opening burn and first draw. A large volume of initial smoke opens up with a flavor of sweet spice, black tea and charred cedar bark as you draw it in. Notes of chocolate and toffee overlay an earthy, leather base, with a touch of brown sugar and bourbon at the finish. This cigar deserves the title Presidente.
total diameter

.8125 inches

beginning length

7 inches

strength

medium to bold

country of origin

american
wrapper

Mexican San Andreas

wrapper color

Colorado Maduro

filler

Dominican, Columbian & Nicaraguan

wrapper leaf type

Broadleaf
We strive to keep each cigar consistent and of the highest quality. We have also worked with some local distilleries to create cigars infused their liquors. Each one offers a unique flavor experience within the cigar.