OUR CIGARS
year round
seasonals
limited selections
about churchill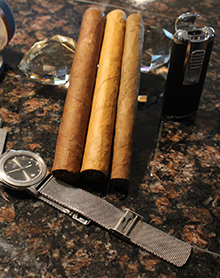 Churchill cigars are 7" by 48 ring gauge.
The classic size of the Churchill is one of our favorites: it epitomizes elegance and class in a cigar. Try ours with a smooth port wine or a fine brandy to add to the experience.
We offer our Churchill cigars with our Ecuadorian shade grown wrapper. Our Ecuadorian wrapper allows for more leather and oils to be prominent during the smoke. The perfect match for a deep Port or Brandy.
This medium strength offering has a smooth profile with overtones of hazelnut and cedar atop a mildly sweet and earthy core. Further along the cigar, the flavor develops a sweet and leathery top note. Further yet, the cigar yields distinct notes of dark roasted coffee and bittersweet chocolate.
total diameter

.75 inches

beginning length

7 inches

strength

medium

country of origin

american
wrapper

Ecuadorian Cloud Grown

wrapper color

Colorado Maduro

filler

Dominican, Columbian

wrapper leaf type

Broadleaf
We strive to keep each cigar consistent and of the highest quality. We have also worked with some local distilleries to create cigars infused their liquors. Each one offers a unique flavor experience within the cigar.