OUR CIGARS
year round
seasonals
limited selections
about dark fire gordo "bullet"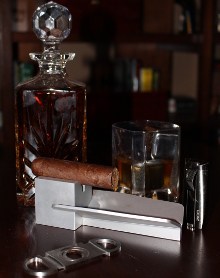 A velvety dark wrapper with piquant oils offers a taste of cracked black peppercorn and spice for the mouth and lips. The smoke starts with a distinct taste of dark chocolate and coffee cherry with an after taste of smoked chipotle pepper. The smoke aroma is volcanic grown pine and leather. Progressing along the cigar the flavor unveils the creamy smoky taste of Gruyere cheese with hints of peat and creosote. The cigar will finish with hints of toasted beech wood and oak.
total diameter

0.9375 inches

beginning length

4 inches

strength

bold and spicy

country of origin

american
wrapper

Ecuadorian Cloud Grown Lijero

wrapper color

Maduro

filler

Dominican, Columbian, Brazillian

wrapper leaf type

Broadleaf
We strive to keep each cigar consistent and of the highest quality. We have also worked with some local distilleries to create cigars infused their liquors. Each one offers a unique flavor experience within the cigar.