OUR CIGARS
year round
seasonals
limited selections
about lanceros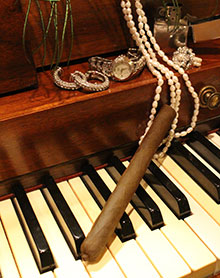 The deep Maduro wrapper has a smokey campfire aroma yet a nutty, buttery mouth feel with just a hint of tooth. First draw will unveil earthy tones of pumpkin or squash, with a delicate yet distinct aroma of leather and white pepper. As the cigar burns, notes of dried fruit and coffee become apparent. Towards the end of the cigar, as the oils mix and the heat works through the leaves, hints of chocolate, sandalwood and pepper are released.
total diameter

0.5625 inches

beginning length

7 inches

strength

mild but flavorful

country of origin

american
wrapper

Brazilian Arapiraca

wrapper color

Maduro

filler

Dominican, Brazillian & Nicaraguan

wrapper leaf type

Broadleaf
We strive to keep each cigar consistent and of the highest quality. We have also worked with some local distilleries to create cigars infused their liquors. Each one offers a unique flavor experience within the cigar.