OUR CIGARS
year round
seasonals
limited selections
about apple brandy infused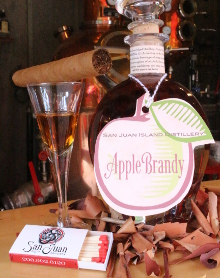 The opening burn and first draw gives a light dry flavor and dried fruit scent mixed with vanilla. The infusion mellows the opening burn making this an almost ethereal smoke. The cigar is light and airy with a rich flavor of two types of French oak and caramel mixing with the aroma of the sweet apple blossom of the brandy. It finishes with the zesty notes of cinnamon bark and almost no burn on the palette while the texture remains rich and full.
total diameter

.739 inches

beginning length

6 inches

strength

mild to medium

country of origin

american
wrapper

Connecticut Shade

wrapper color

double Claro

filler

Dominican seco and volado, brazilian habano viso

wrapper leaf type

Broadleaf Havana seed Connecticut grown
We strive to keep each cigar consistent and of the highest quality. We have also worked with some local distilleries to create cigars infused their liquors. Each one offers a unique flavor experience within the cigar.