OUR CIGARS
year round
seasonals
limited selections
about monarch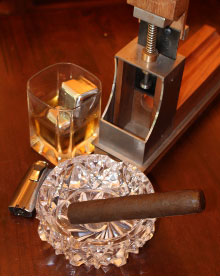 Monarch cigars are 6" by 60 ring gauge.
This is possibly the richest cigar we make. There are so many intermingling flavors it will be difficult to pin down all of them. Rest assured, complete satisfaction is what this cigar offers.
Try this with a lighter whiskey, sipping rum or even a port wine. You won't be disappointed.
This cigar starts with a large volume of rich buttery smoke with a hint of coffee that's earthy on the palate. There is a distinct creaminess: not as light as Crème Brule, but more like a chocolate torte. As you progress through the cigar, flavors of burnt cherry bark and raisin emerge. Bittersweet dark chocolate and coconut shell with hints of unprocessed cacao nib come to mind. Towards the end, a definite taste of hazelnuts and cedar plank emerge, with a hint of sage.
total diameter

0.9375 inches

beginning length

6 inches

strength

bold and rich

country of origin

american
wrapper

Mexican San Andreas

wrapper color

Maduro

filler

Dominican and Columbian

wrapper leaf type

Broadleaf
We strive to keep each cigar consistent and of the highest quality. We have also worked with some local distilleries to create cigars infused their liquors. Each one offers a unique flavor experience within the cigar.